With speakers from theory, philosophy, new media arts, theatre, and music the Sharing Care Training School investigated projects and processes, using meta-disciplinary methodologies, implemented by cultural workers. Together, we anticipate that these exchanges and resultant discussions will lead to more innovative, accessible and non-monetised alternative tools for real and sustainable implementation into local art and wider communities.
Abstract: In his presentation Tomislav Medak discussed Pirate Care, a project that was convened by Valeria Graziano, Marcell Mars and himself. Pirate Care is a transnational research project and a network of activists, scholars and practitioners who stand against the criminalisation of solidarity and for a common care infrastructure. The name refers to initiatives that have emerged in opposition to neoliberal policies and paternalistic institutions that are denying basic care provisions to many. Pirate Care works on establishing infrastructures for self-organised, technologically-enabled practices of care and collective learning from those practices. In his presentation, he also expanded on the technological aspects of the project, which are rooted in their previous work in shadow librarianship and their aspiration to foster autonomy in social movements through technological upskilling by using simple and sustainable tools.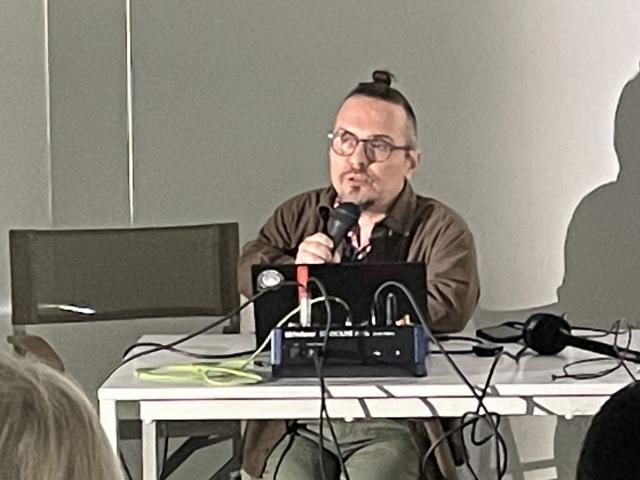 Dr. Tomislav Medak is a researcher with a PhD on technopolitics and planetary environmental crisis from Coventry University's Centre for Postdigital Cultures. Tomislav is a member of the theory and publishing team of the Multimedia Institute/MAMA in Zagreb, a co-initiator of the Pirate Care project, and formerly an artist in the performing arts collective BADco. His research interests are in the environmental crisis, the political economy of intellectual property, and the unevenness of techno-science. At times, he also writes on theatre, dance and politics. He is proficient in minimal computing and amateur libriarianship.
---
Abstract: The Buffer Fringe Performing Arts Festival, a festival in the in-between space of Cyprus, the buffer zone between the two parts of the island, has taken place since  2014. It has captured the imagination and the creativity of artists, curators and peace-builders over the past 9 years, making it the only annual meet-up of artists from across the island.
While the frozen conflict of Cyprus offers a comforting, nostalgic umbrella for the work, as the Artistic Director of the festival from 2019-22, she has come to realise that there are several elements of the practice of organising and curating an international festival, which is also hyper-local, that constitute violent ruptures within the practice and need to be taken into consideration. These ruptures have become more accentuated in 2020 and 2021, a time when the global pandemic enveloped the world and made both artists and festivals even more vulnerable.  
Ellada Evangelou addressed two key points that relate on the one hand to the artistic and ethical integrity of a festival, and on the other, to the well-being for artists and the creative team as a main pillar of the planning.  Examples were shared, of mechanisms that emerged in order to create a fluid community of exchange and thought, while at the same time acknowledging the practicalities of addressing day-to-day challenges. 
Finally, the talk addressed the underlying colonising practices that are omnipresent in the margins, and address questions of dignity and care within the global (and local) arts system.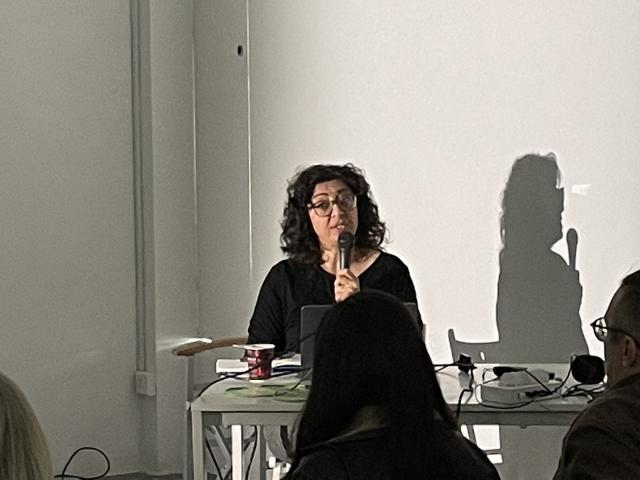 Dr. Ellada Evangelou was born and raised in Cyprus. She has studied in Cyprus and the United States, and was a recipient of a Fulbright scholarship. Her background is in English, Dramaturgy, and Theatre Studies/Cultural Studies. She has worked as a dramaturge, theatre director, workshop facilitator, and independent consultant, in collaboration with theatre companies, NGOs, and international organisations.
She teaches theatre and dramaturgy courses in higher education in Cyprus and the United States. She is interested in the relationship between theatre/dramaturgy and identity, and works in the intersection of artivism and scholarship in post-colonial, post-conflict communities.
She is co-founder of Rooftop Theatre, active in arts for conflict transformation in Cyprus, since 2004, a member of the Leadership Circle of the IMPACT project (2017-21), and a 2020-21 Global Fellow of the International Society for the Performing Arts, as well as the Artistic and Executive Director of the Buffer Fringe Performing Arts Festival 2019-2020-2021 and a Co-Director in 2022, in Nicosia, Cyprus. In 2021 and 2022, she has been a collaborator of The Festival Academy, working on festival-making in (post)conflict communities.
In 2021, she was a Global Faculty in Residency, at the Gallatin School of Independent Study, NYU. She currently teaches at the Department of English Studies, University of Cyprus. 
---
Abstract: What do we want a toolkit of care to be? To Do? To avoid? This guided discussion considered questions such as: how might self-care and care for others both clash and complement each other? How can art collectives care for their members, but also the communities they work in? How should we navigate modalities of difference when considering standards of care? Can art and ethics clash, and if so, how should such conflicts be resolved?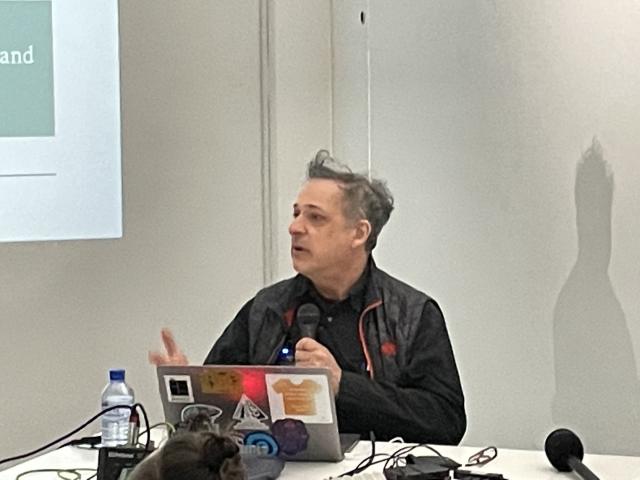 Dr. Eric Lewis is a Professor of Philosophy at McGill University in Montreal, Canada, specialising in the philosophy of improvisation, the philosophy of new media art, and Black aesthetics.  He is the scientific coordinator of The Toolkit of Care COST funded project, a member of the Athens based collective Medea Electronique, the director of The Laboratory of Urban Culture, Executive Board member of Improvising Futures, and the President of Arts in the Margins. He is the author of five books and numerous book chapters and articles.  He is an active improviser on brass and reeds.
---
Abstract: With the advent of sensor systems, a multitude of signals in our environment is translated into data and information, shaping our thoughts, behaviour, and social interactions. Often, pragmatic sense-making is overshadowed by technological wonder or even a form of technology mysticism. This presentation covers Yu Zhang's artistic practice over the past five years focusing on the phenomenon of ubiquitous data and how to leverage its underlying properties for art and design. In her projects, she takes a multifaceted approach at data, looking at what it can tell us and where we need to look beyond in our sense-making. This presentation also showcases the design and implementation of connected systems and creative technologies that can be an important driver of insight and engagement, and make complex art practice possible in different contexts. 
Dr. Yu Zhang has a background in fine arts and design. In her Ph.D. research she investigates the theory and artistic practice of interactive technologies for public, large-scale installations. Over the past years, she has designed and researched interactive systems that respond to Everyday phenomena, environmental concerns, children-system interaction, online collaboration platforms, and uncertainty in data visualisation. Yu has participated in various international Art Residencies, and her work has been exhibited at galleries, museums, and festivals worldwide. Besides, Yu's teaching experience covers a broad range from traditional classrooms and workshops to design-led project-based learning activities. Her book "Coding Art," co-authored with Mathias Funk, was published by Apress/Springer in 2021.
---
Abstract: Galina Dimitrova-Dimova talked about sharing care by means of art through two totally different perspectives: one from the young people in the capital and the other from the older people in small villages in the Northwest region of Bulgaria. The first part of her talk covered the international digital art festival DA Fest, which we have been organising in Sofia since 2009, as well as some other activities of the DA LAB Foundation to develop the local community of young digital artists. The second one, presented the residency program "Baba" (tr. Grandma), organised by the "Ideas Factory" association, in which she is involved as a curator since 2020, and which aims to support the elderly people in depopulated villages.
Dr. Galina Dimitrova-Dimova is a curator and organiser of cultural projects. She holds a PhD on Contemporary Art and MA in Art History from the National Academy of Art in Sofia, Bulgaria. Her main areas of work are digital / media art, public art, and socially engaged artistic practices. She is co-curator and organiser of the DA Fest International Digital Art Festival since 2009. She is a co-founder of DA Lab Foundation (2018) where she currently works as curator and project coordinator. Galina was a curator of the Interspace Media Art Center in Sofia (1999-2008). She has a big number of curatorial projects with Bulgarian and foreign artists. Lecturer in the Master's Program in Digital Arts at the National Art Academy in Sofia, Bulgaria.
---
Abstract: Alexandra Tzanidou shared her experience with the theatre group THEAMA, the ways that inclusion is developed in their artistic practices, and how this translates to equity in the perceived experience. She explored the current services for providing accessibility in theatre and the ways that they intersect and differ with and from inclusion. During this short engagement, she presented the journey for developing the first prototype for serving the post-covid needs of the group for preserving inclusion, and she provided the opportunity to exchange thoughts on the ways that art could/should be involved in the design of the modern socio-technical systems, as they are moving from information exchange services to immersive experiences and awareness raisers. How venues with limited resources could explore the integration of services for inclusion such as touch tours and immersive experiences while respecting personal boundaries, and what such services have to offer to broader society?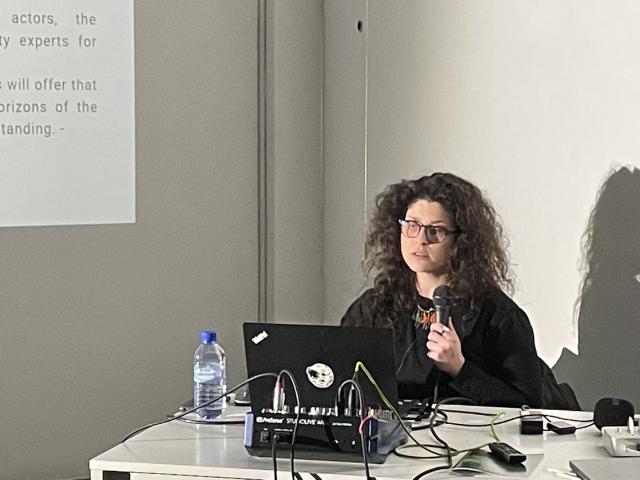 Alexandra Tzanidou is a Ph.D. candidate in Human-Computer Interaction in Open Lab at Newcastle University. She holds an MSc in Applied Informatics from the University of Macedonia, Greece, and a Master of Research in Digital Civics, from Newcastle University, UK. She is an EPSRC scholar since 2019. Her Ph.D. is focused on the development of Accessible Design Patterns and inclusive research methodologies for modern socio-technical systems, based on the social model of disability. The research that she is conducting in cooperation with the first professional inclusive theatre group in Greece is highly community-based, combining the disciplines of Art (mainly theatre), disability studies, and Human-Computer Interaction. 
---
Abstract: In our desire to care for others, where is the boundary between artist and care giver? Vienne Chan talked about the lessons learnt in the collaborative project Institute of Care in Helsinki in which used role playing games to discuss care against socio-economic realities and imaginations with elderly citizens. She also considered the possibility to strengthen care as a wider social topic through the connection with labour and pensions.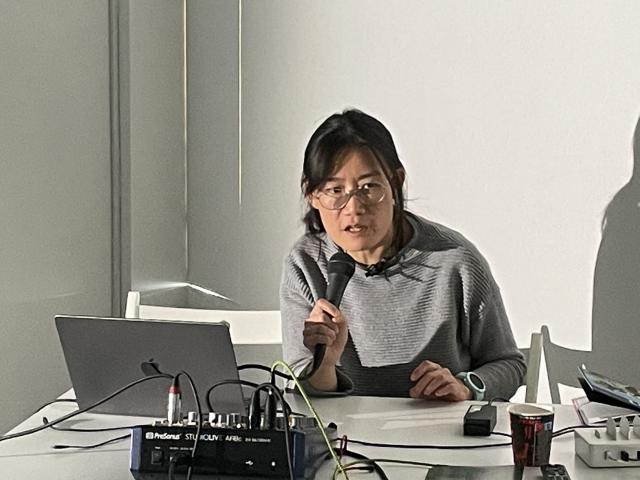 Vienne Chan is an artist and researcher interested in economic justice. In the last few years, she has been especially interested in pension systems and their narratives. She has been a panel speaker at Transmediale (2023) and has held a European Media Art Platform (EMAP) residency at m-Cult in Helsinki (2020), a Weisman Art Museum Creative Collaboration residency with the Carlson School of Management at the University of Minnesota (2019), and was a research associate at Documenta Institut (2021-22). Vienne holds a MFA in Public Art and New Artistic Strategies from Bauhaus Universität Weimar and was a recipient of a Rosa-Luxemburg Foundation scholarship. She is currently on the editorial board for the peer-reviewed journal, Money on the Left.
---
Abstract: Mats Gustafsson talked about the underlying semantics of composing music, how he uses symbolic meaning as an instigator and inspiration to the creative process and how he investigates/researches the connection between the improvised and the composed music, making the two meet in a collective process in an ensemble. He also showed examples of his music and how he works with subtle activism and being part of the "society of the spectacle," both in direction to the ensemble he works with, the audience, the score and to the community. He presented a work method on how art and specifically music can contribute to social care, in general life and/or in connection with the fellow musicians and performers and the audience.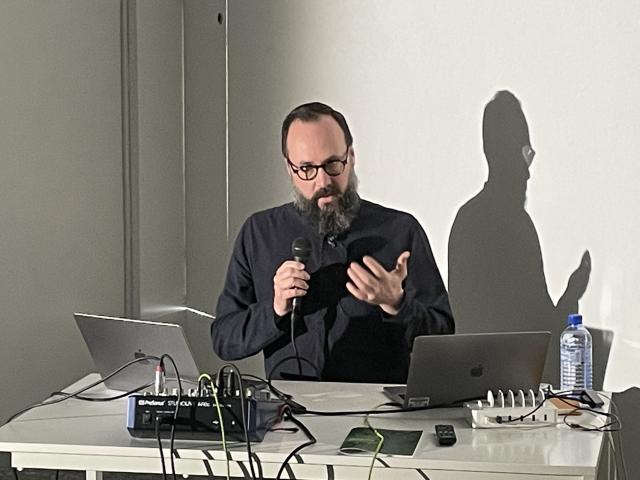 Mats Gustafsson is a composer and double bass player based in Stockholm. Mats is a member of the organisation Fylkingen, an artist-run venue for contemporary music, performance and art and perhaps one of the oldest venues for this purpose in the world, being around for almost 90 years. As an artist and performer Mats is working with improvisation and methods of composition, exploring the interaction and connections between the two. Mats Gustafsson holds a masters in jazz composition from the Royal school of music, Stockholm and has also studied contemporary composition in Bucharest, Romania.